Preserving the cultural heritage of the Nemaha Valley for future generations
Please note that the museum will be closing for the season on October 24th this year instead of December 7th.

The Nemaha Valley Museum opened on June 24, 2020.  Hand sanitizer will be available and please sign our guest book.  We are doing everything we can to keep you safe.
If you are wanting to research in our genealogy library, please contact us for an appointment.    If you have any questions please call Maxine at 402 274-3735
Please note

–– construction in the genealogy library is almost completed and we are putting books and information up on the shelves.  Researching is available by appointments. — Thank you.
Nemaha Valley Museum Hours:         
 Open:  June 24th to October 24th, 2020
Wednesday to Sunday    1:00 pm to 4:30 pm
Closed Mondays, Tuesdays and Holidays
If you need to do genealogy research or need a group tour give us a call  at 402 274-3735 or 402 274-8318  or 402 274-7524 and we will make arrangements for you.
Free Admission – Donations are welcome.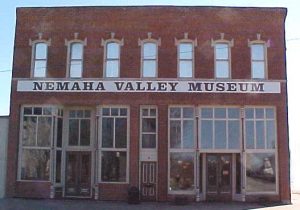 Southwest corner of Courthouse Square  –  Main Building
    1423 19th St    Auburn NE
             Northwest corner of Courthouse Square —  Agricultural Museum
Nemaha Valley Museum    1423 19th St    Auburn NE  68305
                    NVM – all rights reserved 2011